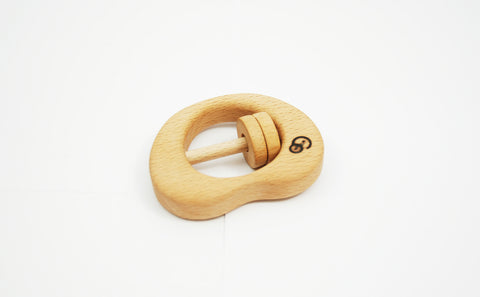 Bean husk
Pickup currently unavailable
A bean-shaped baby rattle. It's a small size that fits in a baby's small hands. Moderate weight and smooth texture make it a wooden toy that you want your baby to touch for the first time.
The round beads are shaped like a plate, and when shaken, they make a soft, high-pitched sound that arouses the baby's interest. By letting your baby hear rattle sounds while he is still in the womb, you can give him a sense of security as the nostalgic sounds he heard in his womb even after he was born. And when a baby can hold it in their own hands, it will become a toy that they can feel more attached to by making sounds with their own hands.
Using high-quality beech wood, all manufactured in our own factory. The surface is carefully sanded and polished one by one by craftsmen, and the surface is finished with natural paint, so it is safe to put in the mouth. It can also be used as a pacifier or teether.
- Product specifications -

■Material: Beech
■ Painting
OSUMO color (normal clear)
■ Target
From 0 years and 6 months
■ size
72×60×15 (mm)
■ Weight 50 (g)
■ Design
Kazuto Komatsu